If you grew up Christian like me, then you'll most likely recall reading Exodus Chapter 20, more commonly known as the 10 Commandments. Sitting right at number four are the words, "You shall not make for yourself a graven image in the form of anything in heaven above or on earth below…", words which have evidently become less apparent in today's world. You're most likely to come across a majestic status on every street corner whether it be one as monumental as the Statue of Liberty or one as revered as the famous Benin bronze statues of Oba's of time past. 
Far from graven, these bronze statutes are the most revered forms of artwork in Nigeria, said to have been fashioned from as early back as the ancient Benin Kingdom to commemorate the sacred identity of the Oba or King. Nowadays, these bronze sculptures are worth a ton and can be found in many of the West's popular museums, including the British Museum in London and the Metropolitan Museum of Art in New York. But while their eventual return (read as loan) to the Southern Nigerian state has been at the height of conversations on social media, my trip to Benin revealed the dying culture plaguing the historic Igun Street, a relic of Benin bronze artwork.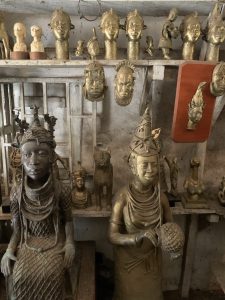 A few months back, I was back in my home city Benin and was fortunate to visit the famous street known for its rich storied history of various Benin artwork ranging from bronze casting, beautiful plaques, masks, and statues for the Oba. Though I had visited Benin on several occasions before, I had yet to venture into that side of town because of my busy schedules and short stays. But on this occasion, it was a must to visit the center of Bronze work in Africa and a World Heritage site and see history in the making for myself.
But what I imagined the well-paved street–with the inscription "Guild of Benin Bronze Casters"– would be was the exact opposite of what I came to find that day. Despite the clay-coloured arch which welcomed visitors into the street, what I came to find was not as gargantuan as it had been made to sound. Levelled on both sides of the road were corner store art shops full to the brim of bronze artworks, jewelry, and more, but rather sparsely erected throughout the street. What I imagined would be artwork deluged on every available plot was actually a sparse string of shops wantonly calling our to eager costumers in hopes to influence their decision to visit their store rather than their neighbours.
Considering how discussions around the importance of returning looted Benin bronze from European museums were rife, it was surprising to see how little was being done to sustain the craft in what was once one of the revered guilds of the Oba of Benin. Talking to one Mr Ekiuha, I learnt that the craft was intermittently dying. He shared that bronze making was a family-run business as all members of the guild are said to be related by common ancestry and descendants of Inneh Nigun, the custodian of the street and the bronze casters. Because it was tightly kept within the family, many of the offsprings of bronze casters were not taking a liking to the craft and preferred to look elsewhere for employment and fulfillment because of how slow sales could be on a normal day. To him, because Igun Street looked just like any other street, this hurt its chances of being a hive to draw tourists willing to spend on Nigerian relics, because those who live in the state would not be the target market for some of these high-priced artifacts. Indeed, my grandmother who's lived in Benin all her life was full of complaints after my mother and I went splurging on new artwork, unable to grasp why we needed these relics in our home in the first place.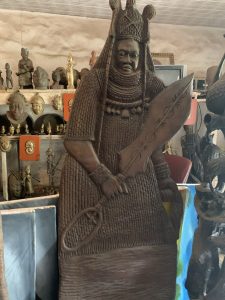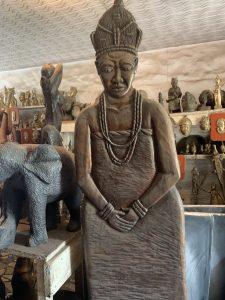 Despite the lacklustre setting, I was still marvelled to visit the famous street and learn all about the process of making these artworks made of different materials like clay, wood, ivory, brass, and coral. Many of these materials were believed to be sacred with the ability to wane off evil spirits. But the current attitudes by many of the inhabitants of Igun Street typified the fear reflected by many that our culture was slowly being lost as we embrace more of technology and Western modernity. Though this fear is not wholly unfounded, it only tells one side of the many-layered story.
Bronze work in Benin largely remains undeveloped. The same practices that have always been employed in the bronze making process has not changed or been simplified over time, it remains untouched all these years and surmises a lack of innovation to make the process less tedious for a new generation of bronze makers looking to enter into the craft. Indeed, if the Benin's royal family and the Nigerian governments plan to open a museum in Benin City in 2023 with at least 300 Benin Bronzes ring true, surely there should also be an influx of artifacts that have been made locally in Benin rather than a wholesale reliance on the loaned relics from European museums. These loans are said to run for three years with an option to renew after those years, making no mention of a plan to return these artifacts to their rightful owners.
According to an art collector, Prince Shyllon, there is reason to believe that the Nigerian ecosystem for art isn't where these artifacts should be yet especially as local attitudes towards historical artifacts are very often demonized. Judging from my grandmother's disapproval of my fascination with these bronze relics, there is some truth to Prince Shyllon's statements.
It does strike a chord that we're losing touch with a very important part of our culture that seems to be dying because of a lack of development and outdated practices. Indeed, if we are to look forward to a better future, it would be necessary to re-evaluate our current practices that mar its future ranging from women's exclusion in the bronze making process to the fact that only descendants of the trade granted permission to uphold the craft. As discussions continue to hold on the return of relics from the West, it is time for the government to also invest in the local wares in the country and to help propulse its innovation.